Brand
Whizz & Plop
Recommended Age
14mths - 7yrs
Gender
Boys
Product Use

DAY Training

Getting Started

OVERCOMING FEAR and refusal through understanding "why"

OVERCOMING THE POO CHALLENGE

Teaching the Parent (most important part)

Motivating and teaching the child

Key Benefits

USE THE RIGHT TOOLS - When you use the right tools you are giving you and your child the best chance for SUCCESS! Through years of research and toilet training literally thousands of children around Australia, we know what to do. We know the BEST tools to use that will effectively give you the BEST results in the QUICKEST amount of time.
TOILET TRAIN IN JUST DAYS - From around 17 months old and over.
START EARLY -€" You can start as early as 14 months with this system. Please note, you can start earlier with your child. There is a different system for starting an infant <12mths.
START WELL -€" Teach the correct way to toilet train from the beginning. Most problems are created by us, the parent, because we didn't know what to do the first time. Simple errors like asking your child if they need to go. This one question can delay toilet training for months! Prevention not the cure! You pay - with interest - big time dealing with the cure later on. Just don't create the problem in the first place -€" EASY! Know what to do = Start well.
OVERCOME EXISTING PROBLEMS -€" If there are already bad habits established – refusal, poo problems, running away to hide to poo, etc, then you are given the game plan to overcome.
FINISH TOILET TRAINING BEFORE TWO YEARS OLD -€" Not only possible, but EASIER! Research shows that the "window of opportunity" is between 18 and 24 months.
GUARANTEED SYSTEM - We will toilet train your child or your money happily refunded (if you FOLLOW the system first).
FULL SUPPORT - phone support when you have questions about your specific situation.
SAVE THOUSANDS of dollars in nappies. At $100/mth you are spending in nappies, it is a huge saving! SAVE even further by purchasing the success system in this discount pack.
HELP THE ENVIRONMENT - You can reduce the negative impact that disposable nappies have on the environment by toilet training your child early.
CLEAR STEPS TO FOLLOW - Digital Download videos and parent module file, including Quick Start Guide and Support Manual.
LOTS OF FUN - Makes toilet training fun and enjoyable.
KNOW YOUR CHILD - Helps parents understand their child's personality and their strengths and weaknesses.
EMPOWER YOUR CHILD -€" Give your child the chance to win by using strategies that work. Do the wrong things and you teach your child the wrong things and you get unsuccessful results.
UNDERSTAND WHY? - Gives you solutions because you now understand the "why" behind their child's actions. This can be applied to all aspects of parenting.
GIVE REAL-LIFE STRATEGIES - You will learn real-life, practical strategies to know how to work with your child more effectively.
BE PART OF A FAMILY - You are joining the Pottytraining.com.au Family which means you get FULL SUPPORT to help toilet train your child.
HELPS WITH SPECIAL NEEDS - Suitable for training parents with special needs children. Toilet training is more about the parent having the right strategy to work with their child.

Inclusions
Ultimate Toilet Training System (x1), Wee Target (x1), Big Kid Waterproof Training Pants (x1) & Weeman (x1)
Product Size (cm)
0w x 0l x 0h
Product Weight
0.95
Current International delivery problems have caused delay with imports for boy themed pants in medium and large. There is a two week delay before we are fully stocked again - estimated 25/02/20. Your Big Kid Pants in this pack will be back ordered and sent out as soon as they arrive in. Apologies for any inconvenience. For the delay, free Dumpy Bubbles will wrapped up and provided as the first prize for your child's Prize Box to play the Dumpy Dump Truck Toilet Game!!!
Please Note: Part of this product is a digital download you will receive at the moment of purchase and the other part will be shipped to you
The EASIEST Way to Toilet Train Boys - Even in Just Days!!!
The amazing

Ultimate Toilet Training System

is your guaranteed program for success.

There are two key parts to the system:
Know Your Child Parent Module for you
Totally Tops Toilet Game for your child
The key is us, the parent. You have full control over what you do which is reassuring. You just need to follow the steps to success.
Once you know your child's personality, you tweak your strategy and the Toilet Game to suit this. For example, every child needs structure and routine, but a Wise Old Owl can't operate effectively without it. Every strategy outlined in the Know Your Child resource will benefit every child. The success comes when your child is matched with the strategy that works most effectively for them. Once your child's needs are fulfilled, the "battle of wills" disappears, whatever it is. The Poo Challenge for instance is only a representation of the battle of wills. You need to get to the heart of "why" they are doing what they are doing in order to solve the challenges. This is why you can apply the strategies to toilet training, avoiding tantrums, eating vegetables….. all aspects of parenting your child - because you are getting to the source of the problem - the "battle of wills".
Parents can use the KNOW YOUR CHILD System to just start and finish well or overcome pre-existing problems like the common Poo Challenge - running away to hide to poo, wanting the nappy on to poo, withholding poo - one or more of those unpleasant scenarios. Avoid this altogether with the right strategies dedicated to your child's needs or overcome in just days.... regardless of time taken to date.

Start from from as young as 14 months. Finish well before two years of age.

With a dedicated approach to YOUR child, you finish in just days - even from 18mths old.

Save hundreds of dollars with NO MORE NAPPIES!
Use the KNOW YOUR CHILD strategies for EVERY area of parenting.... know how to avoid tantrums, eat vegies, lose the dummy, whatever you need, simply by just helping you

understand your child's needs, strengths and weaknesses.

Full support and 100% Money Back Guarantee.

Over $250 worth of value in the Bullet Proof Boy Pack
WHY DO PARENTS STRUGGLE WITH BOYS?
Toilet training can be a mentally exhausting task. Parents can struggle with boys because of their inability to stay still long enough to go. They are constantly moving. I know, I have two boys myself, but they were done and dusted, day and night with this pack by 19mths. My sister toilet trained her twin boys using these exact products starting at 14mths old. By 17mths they were day trained and by 18mths night trained. Done! Two BOYS at once. You just have to look at our Raving Fans page to see many, many stories of parents finishing their sons by 17-20mths – and it was EASY for them using the Bullet Proof Boy Pack.
WHY DOES IT WORK SO WELL WITH BOYS?
The key to our system's success is the Ultimate Toilet Training System. When you then combine this with the physical need for STANDING to wee for Boys in the Bullet Proof Boy Pack you have the "motivational" and "physcial" covered. Through our exclusive Personality Profile Test for Early Childhood you can work out your son's individual personality and tailor the system to suit them. The Know Your Child ebook included has practical solutions with everyday examples that you can apply and get results immediately. You get all these amazing products for less than one months' worth of nappies for one child….and you can be finished in that time, even if it has dragged out for months. You are details away from success, you just need to know the details that count!
1. WHIZZ & PLOP ULTIMATE TOILET TRAINING SYSTEM – DAY TRAINING
KNOW YOUR CHILD - This is the reason you can finish in days. A dedicated approach to your child's needs means you will get dedicated results - and go quicker. This is particularly effective for the strong-willed child. You can turn your situation around in days. When you use the ULTIMATE TOILET TRAINING SYSTEM you get the KNOW YOUR CHILD Parent Module with the Totally Tops Toilet Game. You know EXACTLY what you need to do - based on your son's personality and bladder size and your little boy just has loads of fun. It is all about your child's personality and you dedicate that whole system to this.
Exclusive to the ULTIMATE TOILET TRAINING SYSTEM is the Personality Profile Test for Early Childhood and KNOW YOUR CHILD book. Once you understand your child's needs, you have a game plan specific to them.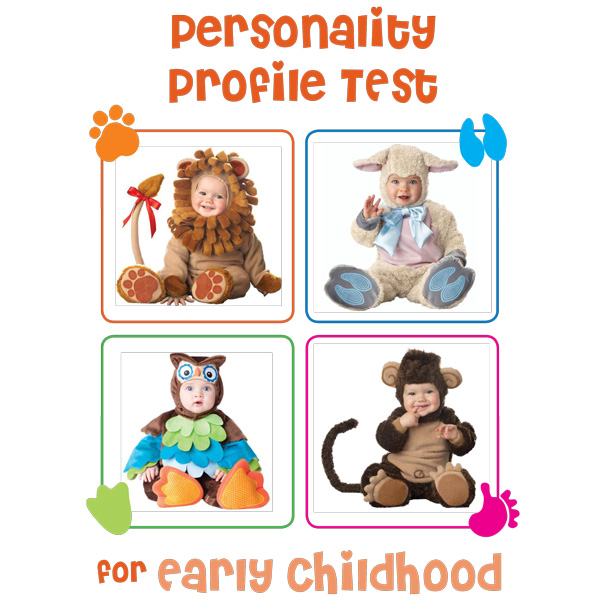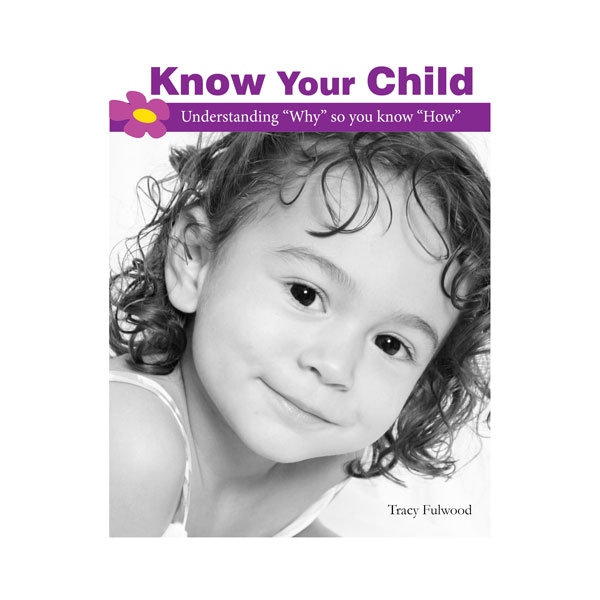 You will discover if your child is a:
Courageous Lion

Loveable Lamb

Wise Old Owl

Cheeky Monkey
PLAYING THE TOTALLY TOPS TOILET GAME WITH DUMPY DUMP TRUCK
When playing the game, you start by introducing the characters through the ultra cool Dumpy Dump Truck Toilet Training Adventures children's book included. Psychologically they fall in love with all the characters first to encourage them to play the game. Each character has a name and each character teaches something to do with toilet training. So it is a teaching tool at the same time as having lots of fun. Dumpy Dump Truck shows you how to BOMB THE YUM YUMS with your poos. All aboard the Choo Choo Train Express - Tickets Please!!! Choo Choo has your VIPee / VIPoo pass to go. Your son won't be able to resist. Then he chooses the character he wants to be to play the Dumpy Dump Truck Game with each character a sticker to reward his successes on the toilet. Things like the Toilet Yum Yums and Toilet Tickets are just added extras to encourage your child to go. The Dumpy Dump Truck Game keeps him going consistently enough to finish. Most parents tell us their son knows the book off by heart before the end of the process they love it that much!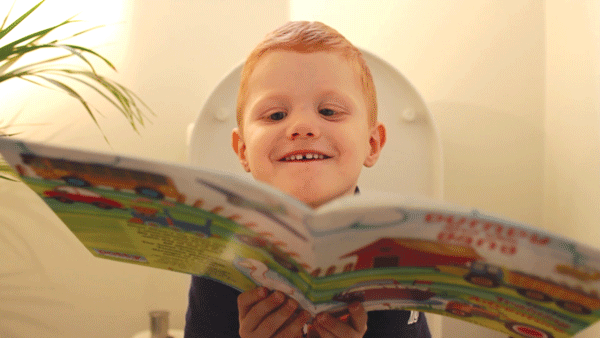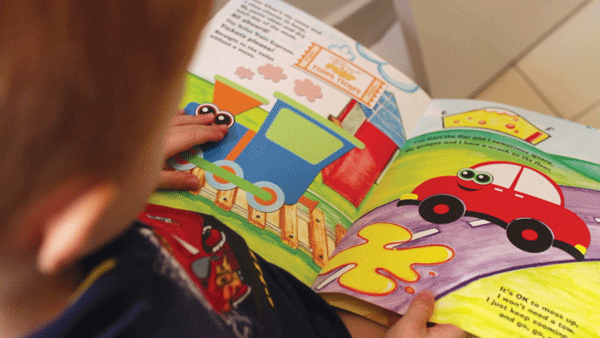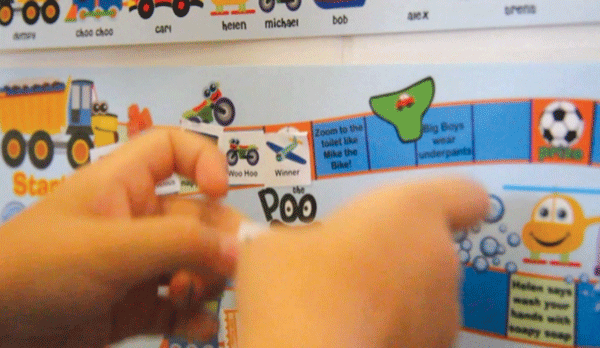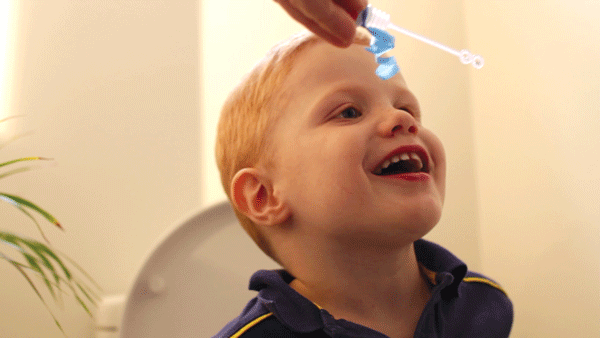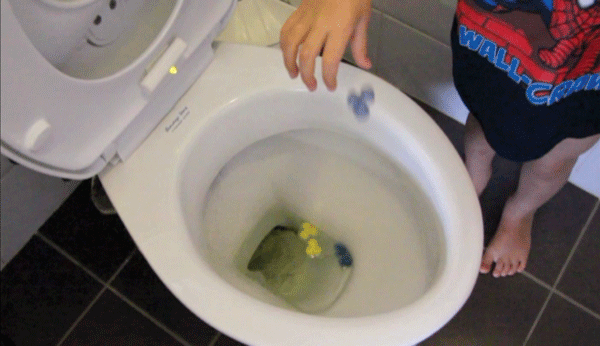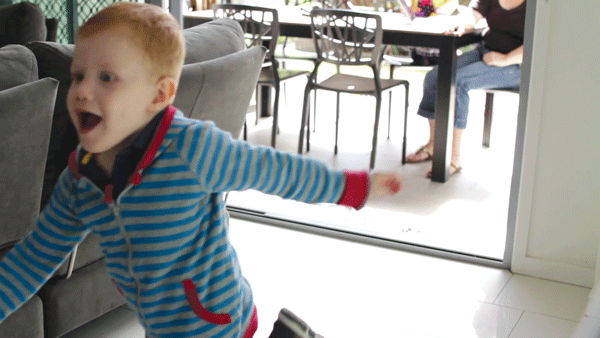 The Ultimate Toilet Training System is the key to your success. A tool is only as good as the operator, so our main focus is to teach you the details for success. You are literally details away from a permanent clean, dry bottom, you just need to know the details that count – what to do and what to avoid.
The system teaches you to work out your son's bladder size and personality so that you are dedicating the system to suit him. A hit and miss approach delays the process for months and even years for some parents and at $100/mth, it becomes way too expensive to do. Instead, with this amazing system, you know when to put your child on the toilet at the "right times" according to their bladder size and if you get any objections, you know exactly what to do because you understand their personality along with their strengths and weaknesses. The foundation of parenting actually and you can apply this information to everything else as well.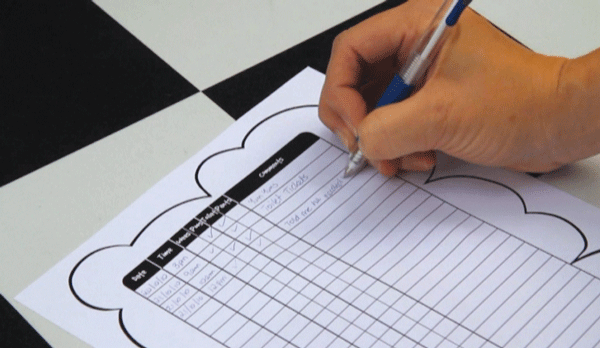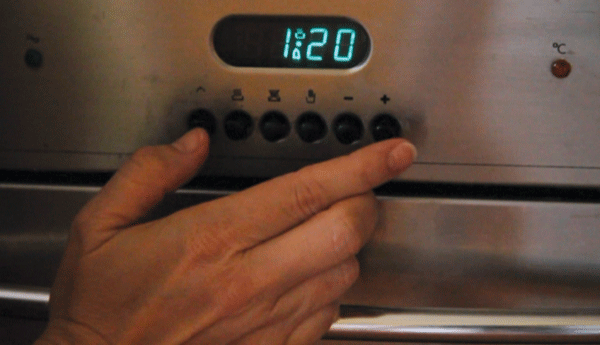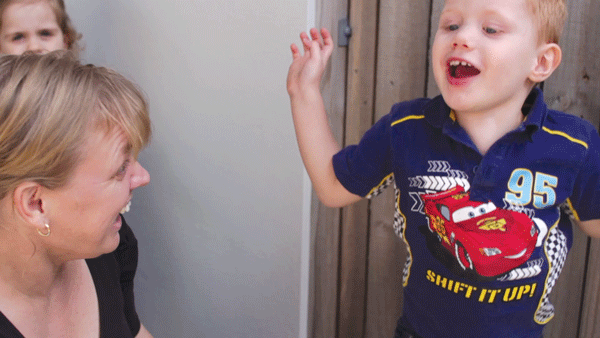 This is how going to the toilet will be fun for your little boy – it is now a game…. But you know exactly what you need to do first with day and then with night training as well. Do day first, then move straight onto night, don't wait. Keep the momentum going and finish with nappies altogether.
2. WEEMAN - STANDING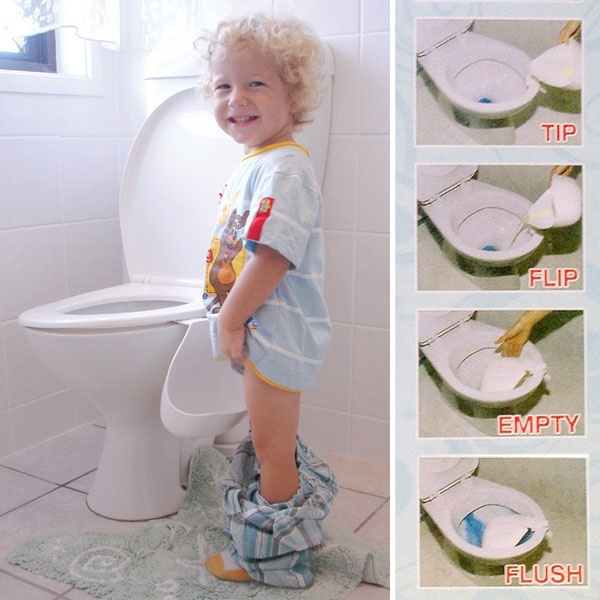 With boys, the two extra things you need to address is standing and aiming. This is what the Bullet Proof Boy Pack covers with the Super Weeman and Wee Target. When you use the Super Weeman, standing is definitely the BEST OPTION to go with. This is why boys are easier. Having done two boys personally I can absolutely swear by the Weeman. It teaches wees standing like Daddy – which is so much cleaner and easier than teaching the incorrect way of pointing down. Boys are simply easier to toilet train with this tool because they want to be like Dad, and you can demonstrate in REAL TIME and be BIG BOY just like Daddy. Boys are doing/action creatures. Tell a boy what to do, you aren't going to get the same success as SHOWING. You can't demonstrate with a girl, and with the Weeman you get instant feedback and the absolute bonus of the Toilet Yum Yums spinning around when you hit it with your wee! Boys and their toys, they simply can't resist (even Daddy's love them too) seriously, they are racing to go, because you have just made the whole task of weeing super fun. Gone is the problem of getting your boy there and keeping them there long enough to go.
You will use the Weeman up until around 3.5years depending on how tall your son is. I cannot speak more highly how good this product is for boys and for you, it creates independence and is very easy to use as it is simply wee/flip/flush.
3. DUMPY WEE TARGET - AIMING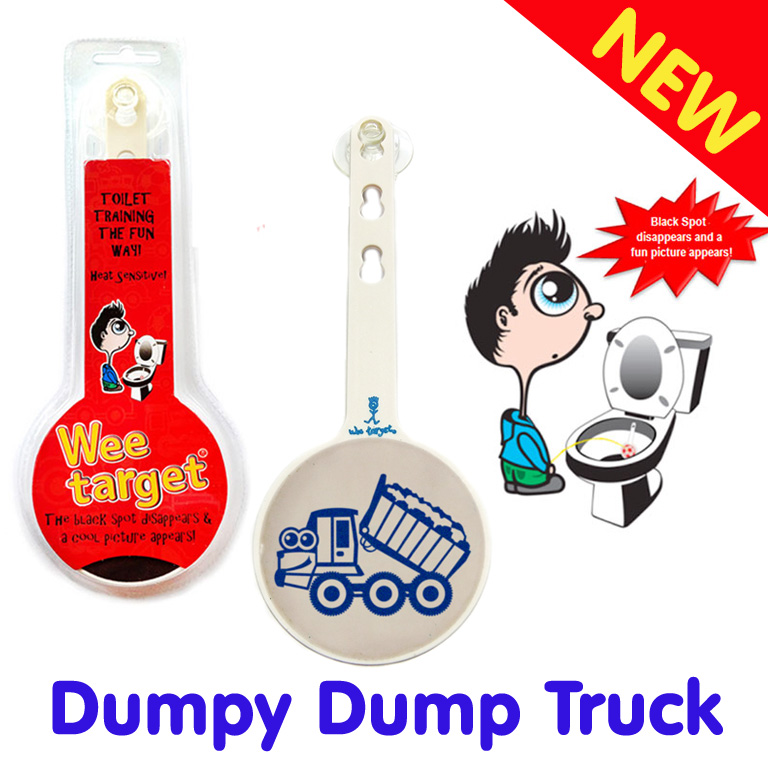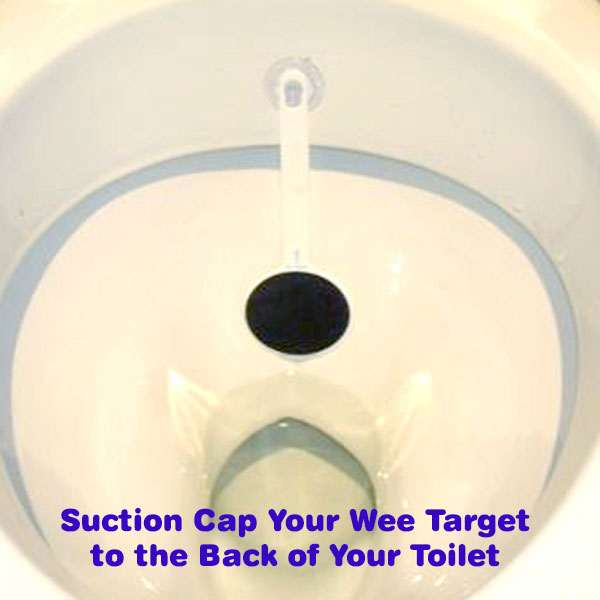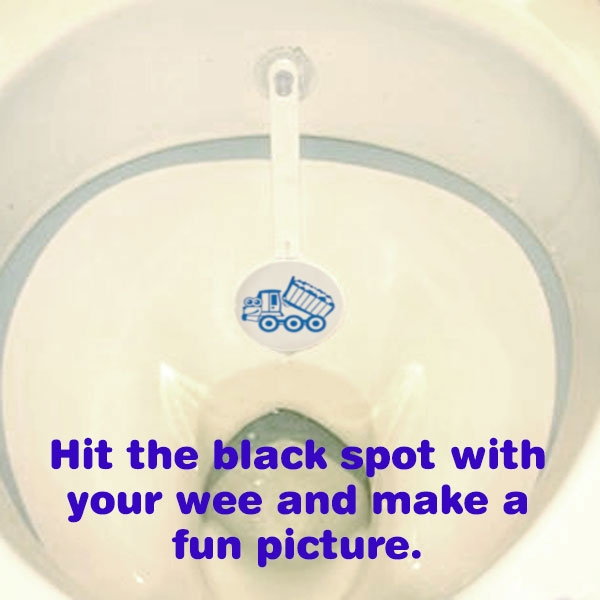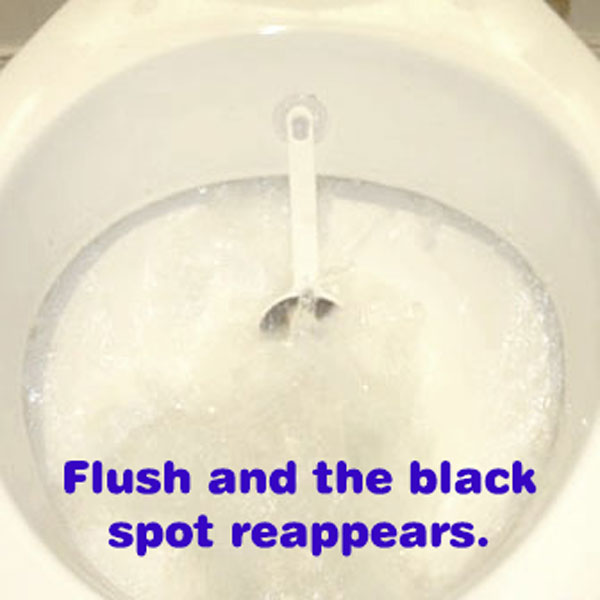 Hit the spot, make Dumpy Dump Truck. Flush, goes back to the black spot. So much fun!!! Your transition into the toilet once your son is tall enough to reach. This keeps them focussed - IN THE TOILET - and not beside the toilet, around the toilet, on the toilet paper, etc. It is just too much fun to resist. Can even provide that something extra to encourage them to wake up at night to go. You simply need to make it fun, and this is the best way to do it with a boy. Dad's love them too.

4. TRAINING PANTS – WITH A WATERPROOF LAYER - DAY / NIGHT / LEAVING THE HOME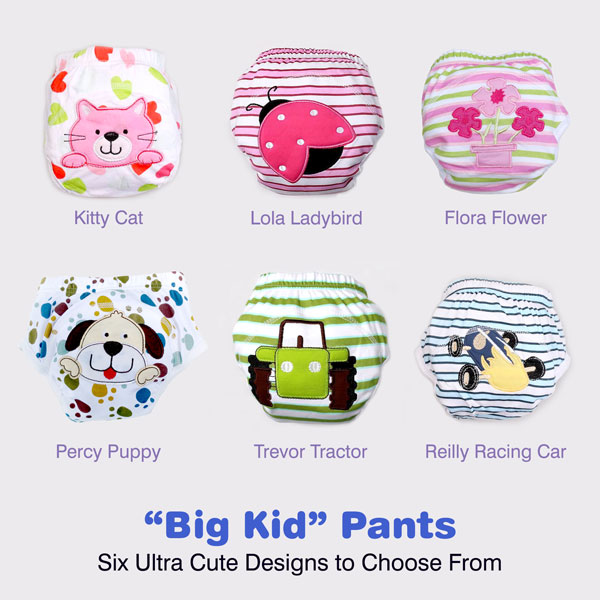 Your child NEEDS to feel wet and uncomfortable. This are the PERFECT solution to give you the confidence to leave the home and night training without the stress. With the waterproof layer, it means it can prevent that embarrassing puddle on the floor when out and about. They are not a nappy, but rather up-market underpants, but with the waterproof layer they are designed to catch that one wee to help manage accidents. It is a parent's solution to losing the nappy.
*Please note the pants theme may vary according to stock availability.
5. SMELLY SONG
The song that kids LOVE!!!
What is not to love about smelly poos?
Mr Poo is too scared to come out of the bottom and so the music begins, with all the body parts joining in the fun to encourage Mr Poo to go to the Poo Resort in the Toilet. Refocus, make it fun is the key to overcoming the Poo Challenge and this song is a great tool to sing your way to poo on the loo!
SWAP NEXT MONTHS'S NAPPY SPEND – YOU ARE GOING TO SPEND IT ANYWAY!
So by swapping next month's nappy spend with our Bullet Proof Boy Pack you will know exactly what you need to do and have the best tools to work with him to get results. You are going to spend the $100 anyway, just instead, you will put it towards a positive system to stop the nappy spend for good and get results. Plus, included in the price is the 1300 number so you get personalised advice from a toilet training expert if you do come across any challenges along the way. You have nothing to lose with our 100% money back guarantee, but everything to gain.
We are so so happy with your program! (BULLET PROOF BOY PACK)
By: Kylie 14th December, 2017
Hi Tracy! Just come to say wow! We are so so happy with your program. Our little man had had two failed attempts at training. Here we are, day three and he is now taking himself to the potty! Knowing his personality and how to use that to our advantage really was the secret to success! I had trained three boys before him. I definitely made mistakes! With Master W and a very big age gap I felt like I had forgotten how to toilet train. Today we will leave the home for the first time! Im recommending this program to heaps of friends and family especially my sister in law with her twins! Thank you so much for helping us as parents find our confidence and in turn helping us give our little man confidence and control (or the illusion of!)
"Know Your Child" makes all the difference!
By: Sarah, 11th December 2017 BULLET PROOF BOY PACK
An amazing difference in just getting his personality right, he is happy to sit on the toilet now.
6 Days Earlier….
Thinks a monster will eat him if he sits on the toilet, scared to go, if we put him on there he screams and cries. Would rather hide when doing a poo and run away from us when we want to change the poo nappy.
---
Wonderful Customer Service
By Kylie: 4 September, 2015
Thank you so much, we recieved this package on Wednesday afternoon. I had one very excited girl.
Thank you to Tracy for her wonderful customer service when our original purchase was deemed 'lost'!
---
Next Day DONE!!!
By Nina: 4 August, 2015
Hi Team I purchased your kit and received it on a Friday. Started using it on a Saturday night and my 4 yr old (yes, I know, a late start) (wise old owl) has been using the loo ever since for No.2s (she was already wee trained). No problems or resistance at al. Thank you so much. Your kit has been successful and amazing. Thanks Nina & Carla xx
---
A miracle!!

By:

Katrina

on 5 June 2018

After battling the "Poo Challenge" for our son (would only poo in his nappy) for some time, we were delighted when he successfully did a poo in the toilet on the second day after receiving this pack!! He is delighted also and loves being part of Dumpy's gang. The information about the different personalities has also been very useful. Thanks so much. I have told everyone who will listen about the website!



So much to entertain them!

By:

Jesse

on 28 March 2018

This book + kit definitely made toileting exciting for my (cheeky monkey) son. We were already in the middle of the toilet training process when we introduced the system ... so he had already mostly picked it up already, but was often too busy playing to notice he needed to poop. He's much better now. I wish I had known about this system when we first started toilet training, as it would have probably streamlined things a bit... anyway, things are going well, fingers crossed! He's even showing signs of being ready for night training now -- often has a dry nappy in the morning, and once he woke me up at 1am to ask to go to the toilet! The connection between the toilet tickets, stickers and book really helps -- he sees it all as an interconnected system and he likes that. The only thing that's tough is the book is quite long - and often he wants me to read the whole book while he sits on the toilet... which can get tedious if it's for every single wee, hehe. Interestingly my son has no interest in travelling around the board with the stickers to get prizes- he just wants to layer the stickers on top of each other (motorbike on top of motorbike, etc). Still... it captures his attention enough and it's a sufficient incentive to go to the toilet, so it works in that sense.



Such a helpful tool

By:

Bek

on 22 January 2018

Really great tool, we've had success! Our boy (just turned 4) was scared of undies, toilet - the lot! But by doing his personality profile (wise old owl and courageous lion) I realised he was never going to show signs of readiness and had the tools to work with his personality. We had instant success and feeling brave enough to try night training now. Would recommend to anyone struggling with toilet training.



---
We Also Recommend
---
You May Also Like
---
Others Also Bought
---
More From This Category