Book A Free Workshop

FREE WORKSHOP
Phone 1300 886 234 or email info@pottytraining.com.au to book your free workshop today.
The "KNOW YOUR CHILD & Toilet Train in Days" Workshop is a fantastic opportunity for Childcare Centres, parenting organisations and larger playgroups to teach and inform parents and staff on the latest information and techniques on toilet training. The "KNOW YOUR CHILD & Toilet Train in Days" Workshop is currently a free service offered by Pottytraining.com.au in the local Brisbane area.
ZOOM SESSION WORKSHOP FOR INTERSTATE CENTRES OUTSIDE OF QLD
For interstate centres or centres at a distance, you can book a Zoom Session Workshop for your parents. This still works well as an onsite workshop when centres organise a night for parents and staff to attend the centre and set up the big screen for the event and making it a group collaboration with your families. We open it up to questions at the end, so this works better in a group as well. If you offer light refreshments and childminding it can be a fun event. COB is best.
KNOW YOUR CHILD & TOILET TRAIN IN DAYS - PBC EXPO - SHORT 25 MINUTE VERSION
---
FREE SUPER BUM BAG FOR CHILDCARE CENTRES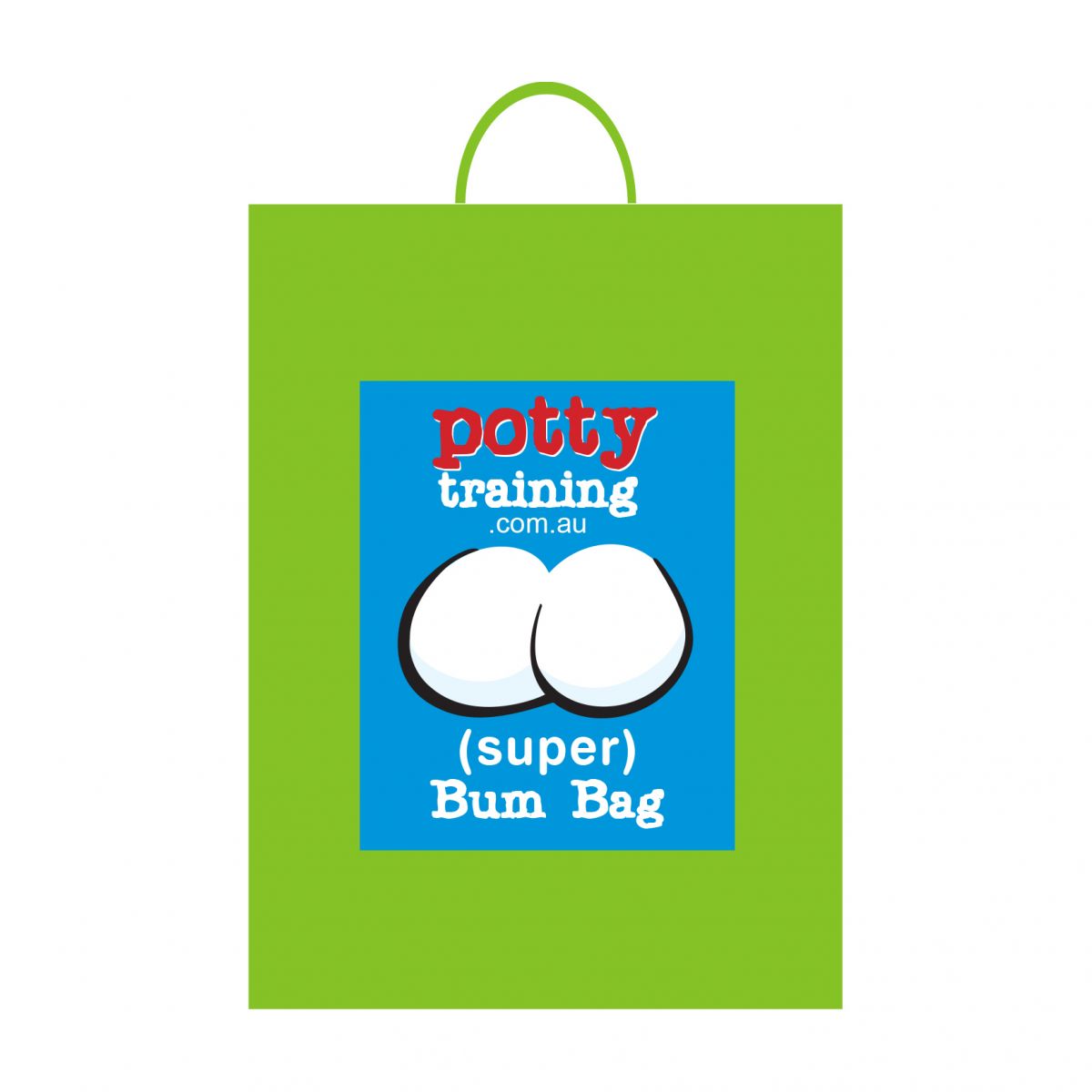 Childcare Centres have the great opportunity to receive FREE SUPER BUM BAG for their Centre which solves the age-old problem of inconsistency between home and centre. There are only two things you need to do to qualify:
1. Hold a FREE "KNOW YOUR CHILD & Toilet Train in Days" Workshop to help the parents and staff at your centre.
2. Let us know what you think. We always want to improve our services and the best way to do this is to get feedback from you. All we ask is you fill out a one page questionairre so we can continue to offer the best possible benefit to families.
And it is that simple. You get a FREE Super Bum Bag worth over $75 for just doing those two things.
---
PLAYGROUPS
The "Know Your Child & Toilet Train in Days" Workshop is also available for larger playgroups of approximately eight parents or more.
---
The 10 Great Benefits of Booking a "KNOW YOUR CHILD & Toilet Train in Days" Workshop for your Centre
Your parents and staff get the most effective toilet training information and techniques that work, based on the latest research and applications.

Your parents will be shown a guaranteed system and method that can toilet train their child in just days, even if they have had months of delay with pre-existing problems.

Your parents will be shown how to toilet train their child before two years old and why this is better and easier.

Parents and staff are trained at the one time, laying the same foundation.

There is a dedicated personalised approach. Question time after the workshop allows specific questions to be answered by a toilet training expert.

The focus is on real-life practical application with product demonstrations and methods to help get started, as well as overcome common toileting problems. Nothing is theory. it is all proven techniques that has toilet trained thousands of children around Australia and the world.

Common toilet training myths are exposed and with invaluable solutions provided.

Every parent gets a free information pack on toilet training to take home, plus the ability to win a prize on the night that will help them with toilet training.

All attendees have the advantage to purchase toilet training products at discounted workshop prices so they can get started immediately with full support.

It will provide the best start for your Childcare Centre with the easiest way to obtain a FREE Super Bum Bag to empower your children and give them the best chance for success.
---
What Childcare Centre Directors say about "KNOW YOUR CHILD & Toilet Train in Days" Workshop
QUESTION: WHAT DID YOU LIKE BEST ABOUT THE WORKSHOP?
"I like that the system that Tracy has developed really could be utilised not just with toliet training but also with a variety of other behavioral areas we face with Children as well"
Little Willow Early Childcare Centre
---
"Research based information, engaging presenter, real life scenarios"
Robina First Early Learning Centre
---
"Explanation how all children toilet train differently and that it is the parents toilet training the children!"
Mother Duck Childcare Centre Wynnum
---
"Question time as we got to tailor our child's needs and found it very helpful."
Charlene's Family Daycare
---
"I think the content presented was very helpful... Iwould definitely host another "No More Nappies" workshop... You were great!"
Lead Childcare Dayboro
---
"All the products were well explained. You guys were awesome"
Goodstart Virginia
---
"I liked that all parents had questions answered"
Goodstart Kedron
---
Childcare Centres & Playgroups that have held a Pottytraining.com.au Workshop, and counting…..
Adam & Noah ELC
Amcal Townsville
Arana Hills Mother's Group
Aspley ELC
Auskids Learning
Balmain Care for Kids NSW x 2
Baringa Childcare Centre ACT
Birkdale Playgroup
Birralee Childcare Centre
Boondall ELC x 2
Bright Beginnings Child Edu-Care x 2
Brisbane Multiple Birth Association
Brisbane Multiple Birth Association - Southside
Caboolture Special School
Camira Playgroup
Camp Hill Playgroup
Charley's Place EL College x 2
Charlene Family Daycare
Chermside EL
C&K Maleny
Confidence for Kids OT x 3
Crystal Waters Childcare
Deception Bay Playgroup
Enoggerra Childcare Centre
Everton Park Childcare
Fig Tree Pocket ECC
Friends of the Birth Centre x 2
Kids Academy Spring Hill x 3
Koala Lou Childcare & Nursery Centre
Geebung Playgroup
Goodstart Algester
Goodstart Ashgrove x 4
Goodstart Aspley x 2
Goodstart Belmont
Goodstart Boronia Heights
Goodstart Bray Park
Goodstart Brookwater
Goodstart Browns Plains
Goodstart Burpengary
Goodstart Caboolture East
Goodstart Capalaba
Goodstart Carina
Goodstart Carindale
Goodstart Churchall
Goodstart Clayfield
Goodstart Coorparoo
Goodstart Dakabin
Goodstart Forest Lake South
Goodstart Hawthorne
Goodstart Hendra
Goodstart Kensington Park
Goodstart Kedron
Goodstart Middle Park
Goodstart Morayfield
Goodstart Mt Warren Boulevarde x 2
Goodstart Murrumba Downs
Goodstart North Lakes Central
Goodstart North Lakes South
Goodstart Nundah x 3
Goodstart Pimpama North
Goodstart Redbank Plains x 4
Goodstart Shailer Park
Goodstart Sinnamon Park
Goodstart Stafford Heights
Goodstart Stafford
Goodstart Virginia
Goodstart Wynnum West
Gumnuts Playgroup
Herston First Steps
Hopscotch House
Jacaranda Sunnybank ELC
Jindalee Playgroup
Joey Club Qantas
KAL – Eight Mile Plains
Kids Academy Spring Hill
Kindy Patch Grovely
King of the Castle Tingalpa
Labradoor Playschool
Little Willow ELC
Lizards ELC
Lead Childcare Daybora
Lyndhurst ELC x 4
Margate Playgroup
MBC Childcare
McDowell Playgroup
Micah Projects Inc. West End
Mission Australia
MOPS Redlands x 3
MOPS Wynnum
Mt Gravatt FIS
Multiple Birth Association – Woodridge
Mum Zone Café Upper Coomera x 2
My Time – Woody Point Special School x 2
One Mile Wonders Playgroup x 3
Perfect Beginnings Eight Mile Plains x 2
Perfect Beginnings Michelton
Possum Playgroup Club
Playgroup Queensland x 3
Pregnancy, Baby & Children's Expo x 3
Ragoona Street Family Daycare x 2
Rainbow Town Childcare
Redland Bay State School Playgroup
Red Cross Early Years Health & Wellbeing
Robina First ELC x 2
Rhodes Shopping Centre Mothers Group NSW x 2
Silky Oakes Childcare Centre
Small World Childcare x 2
Springfield Children's Development Centre
Springwood Playgroup
St Mark's Lutheran ELC
Tadpoles Early Learning Centre – Brisbane Airport
Tadpoles Early Learning Centre – Eatons Hill 1
Tadpoles Early Learning Centre – Eatons Hill 2
Tadpoles Early Learning Centre – Meridan Plains
Taigum Kids ELC 1
The Gap Cubbyhouse x 4
The Gap Early Childhood Centre
The Woods Early Education Centre x 2
Underwood ELC x 2
Village Kids Centre - Cairns
Wavell Heights Childcare
Windsor Playgroup
Woodridge Playgroup
BOOK A WORKSHOP TODAY!
Currently available for the local Brisbane area. If you wish to book a workshop outside of these areas, the cost of travel and accommodation is required to be paid by the organisation booking the workshop.
Subject to availability and location. Invitations and posters will be provided to help promote your workshop.
Phone 1300 886 234 or email info@pottytraining.com.au to book your free workshop today.