Brand
Whizz & Plop
Recommended Age
1yr +
Gender
Boys and Girls
Product Use

NIGHT Training

Correct Game Plan
Managin Wetness
Motivation to Go

Teaching the Parent (most important part)

Motivating and teaching the child

Provides a dedicated approach to your child's needs with the Know Your Child system.

Key Benefits

USE THE RIGHT TOOLS - Night training is different to day. You need to know the correct game plan to ensure you are helping, not hindering your child. When you use the right tools you are giving you and your child the best chance for SUCCESS! The Dry Nights Pack has tools to cover - Correct Game Plan, Mangaging Wetness and Motivation to Go.
FINISH DAY GO STRAIGHT ONTO NIGHT - Keep the momentum going.

Inclusions
Know Your Child | Night Training (Digital) + Personality Test (Digitial) + Dry Pants Dance - 2 versions (Digital) + Dumpy or Bella My First Reward Chart + Waterproof Sheet Protector + Big Kid Pants with Waterproof Layer (x 2) + Mohdoh ZZZzzz
Product Size (cm)
0w x 0l x 0h
Product Weight
1.30
Please Note: Part of this product is a digital download you will receive at the moment of purchase and the other part will be shipped to you
Night Training and Uncontrollable Factors
After day training, comes night training. Don't wait, keep the momentum going. The challenge with night training is there are uncontrollable factors that can effect your child's ability to stay dry. We can make it easier or harder for our child to win based on what we do. The "Dry Nights Pack" combines the three essential things you need to focus on in order to help your child to win. The first is knowing the correct game plan to help your child stay dry.
For Night Training there are three things you need to look at to make it as easy as possible for your child to win.
1. Correct Game Plan
2. Manage Wetness (Lose the nappy)
3. Motivation
The Dry Nights Pack combines the best tools to help you and your child start the process of night training and stay sane. It is a teamwork thing, and can be tough on both parties involved. That is why it is so important to start with the end result in mind and apply techniques that will actually help, not hinder. Understanding that it is not your child's fault if they wet is integral to the process as our attitude makes a big difference to helping our child and ourselves manage night training to bring success. Understanding the ultimate goal of bladder/brain connection is the first start.
1. Correct Game Plan is essential to helping your child achieve night dryness. We recommend you do day first then move onto night, keep the momentum going. Bladder / brain wake up is the physical process that needs to happen. The correct game plan is thus so important and it provides the boundaries to avoid falling into the trap of "hoping it will happen". There are three things in the "Dry Nights Pack" that help you with apply the correct game plan together:
"Know Your Child: Night Training" (eBook) and Personality Profile Test (Digital Download)
Dry Pants Dance (Digital Download)
1. "Know your Child: Night Training and Personality Profile Test
These 2 tools used together will give you the "correct" methods to help your child achieve night time dryness.
Provides the practicalities required for night training. Simple details can make all the difference. It is important that you are prepared and following personalised strategies that will help, not hinder the process.
2. Dry Pants Dance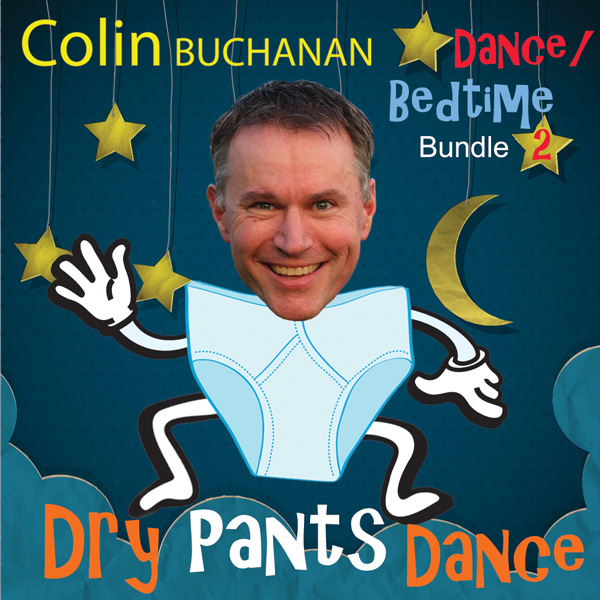 The amazing (and hilarious) Colin Buchanan helps children achieve dryness with the Dry Pants Dance.
"After we laughed and danced along (we have no shame) my daughter announced that she wanted to do the Dry Pants Dance. Within days the night nappy had been abandoned and she now happily does the Dry Pants Dance every morning. We are on week 3 now and I am one happy mummy. "
Helps with the Bladder/brain connection in a child-like way, while encouraging children to do the "correct" things that will help them stay dry. Plus, have a load of fun in the process! Put the right game plan in the conscious brain, so the subconscious can take over while they are asleep
2. Managing Wetness (Lose the Nappy)
Lose the Nappy is essential for success and a Pull-Up is just an overpriced nappy. To keep your sanity with this, you need a Waterproof Sheet Protector so that you don't have to strip the entire linen at 2am in the morning if we have an accident. I don't know how parents do it without this tool. Most only have a Waterproof Mattress Protector which doesn't help with the actually training and sanity.
There are two products in the Dry Nights Pack to help you with Managing Wetness with Night Training.
Waterproof Sheet Protector

Big Kid Pants with Waterproof Layer (2 pants included)
Managing wetness is probably the toughest part for parents to keep going. Add in lack of sleep and loads of extra washing, if we aren't prepared in this area, it will be the key excuse to give up.
1. Waterproof Sheet Protector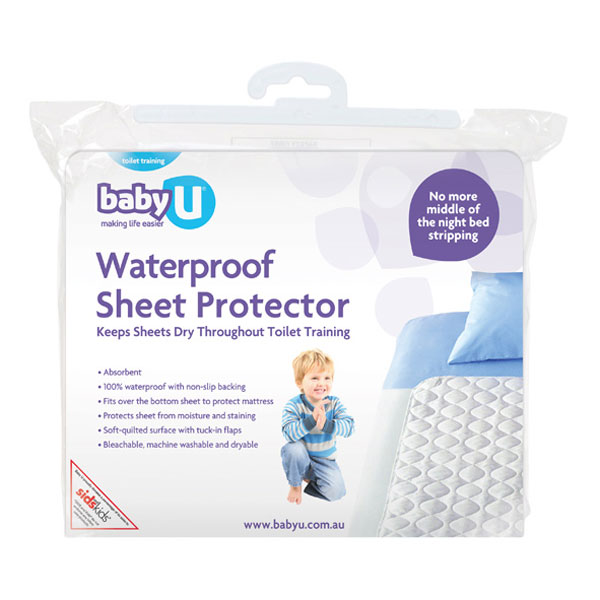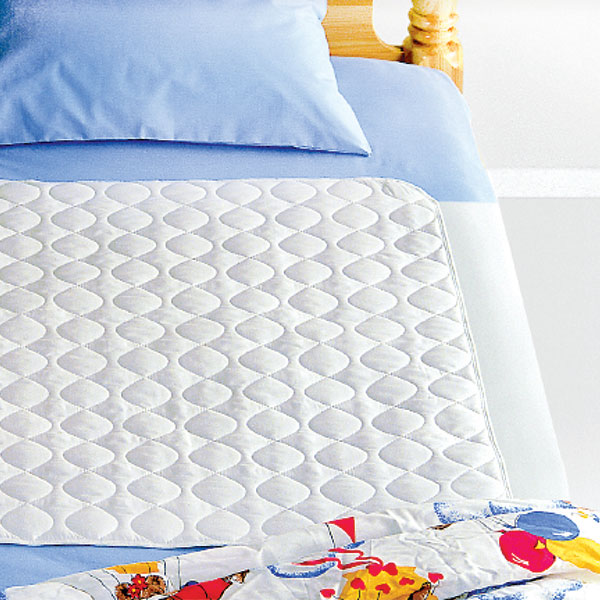 The Waterproof Sheet Protector is then your sanity tool for night training. This is the physical aspect of how you cope with accidents at night. When you are ready to start night training you need to "lose the nappy" and use the waterproof sheet protector. It gets positioned on top of the sheets with wings that tuck into the mattress, so everything underneath stays completely dry. Machine washable and dryer safe, this is an economical solution to staying sane and helping your child feel wet while reducing your workload in the process. Absolute saving grace for staying sane with managing accidents. It fits a king single, single and cot mattress, and gets positioned in the "wet zone" to keep the linen dry.
2. Big Kid Pants with Waterproof Layer (2 pants included)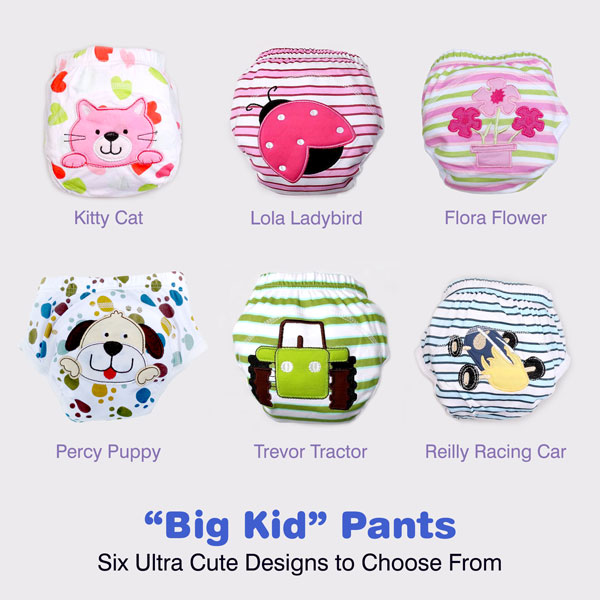 You need to lose the nappy for successful night training. Your child needs to feel wet and uncomfortable to identify what their body is doing. You absolutely cannot sucessfully toilet train with a pull-up disposable nappy pant. The Big Kid Pants are great for night training with their waterproof layer sewn into the wet zone. Please note, they are not a nappy and not completely waterproof. If your child does a large wee, which can happen with night training without the conscious effort to stop the wee while we are awake, a large wee can eventually leak out past the waterproof layer. This is why the Waterproof Sheet Protector is the best combination to use, in case a large wee occurs. When combined with the correct game plan, to help with the bladder/brain connection, it can help your child stay dry or wake as soon as they initially wet. Subsequently, the Big Kid Pants help the top sheets stay dry when night training.
WHAT ARE "BIG KID" TRAINING PANTS MADE OF?
The pants are made from cotton and have a waterproof PUL (Polyurethane Laminate) sewn into the key wet zone.

THEY COME IN SIZE SMALL FOR LITTLE BOTTOMS!
One of the challenges parents face when it comes to toilet training is finding a pair of underpants small enough to fit their child's little bottom. The great news is that the "Big Kid" Training Pants come in three sizes:
Small: 3 - 11kg

Medium: 9 - 14kg

Large: 12 - 18kg
CARE INSTRUCTIONS FOR YOUR "BIG KID" TRAINING PANTS
The pants are machine washable and dryable.

Wash soiled training pants and inserts in water under 30 °C. (Less than 86°F)

Don't not wash them together with your other clothes if soiled.

Do not boil them to disinfect or it will wreck the waterproof capabilities.

Use Natural Baby cleaning agents to extend the life of the pants.

Do not use Fabric Softener.

Dry naturally will extend the life of the pants.

Do not iron.
The Pants included are subject to availability, if you have a prefered theme please write in the comments when placing the order.
3. Motivation is to help your child "want" to stay dry and assist with triggering the bladder/brain connection. Motivation is important. You need to give your child a reason to get up and go.
1. My First Reward Chart: The My First Reward Charts are perfect for this and they are really good value as you can continue to use them after night training is finished for everything else - homework, manners, listening, that sort of thing. When used in conjunction with the Prize Box system your child will have a fun on their way to dryness. When you finish night training, this excellent tool can be used for behaviour. You just wipe it clean and start again next week.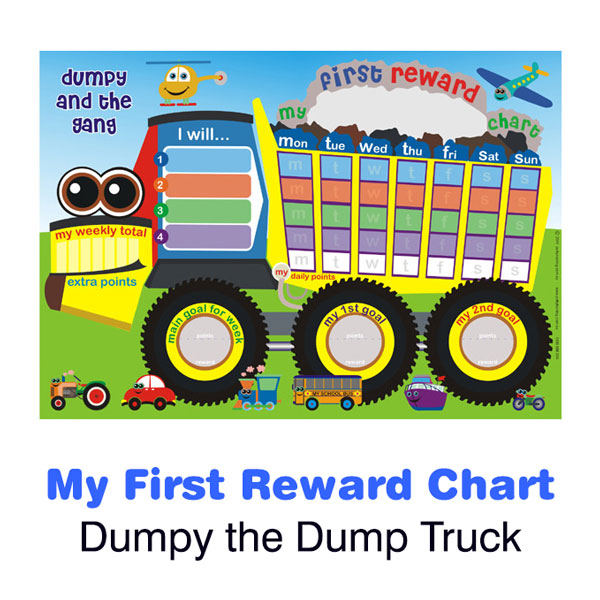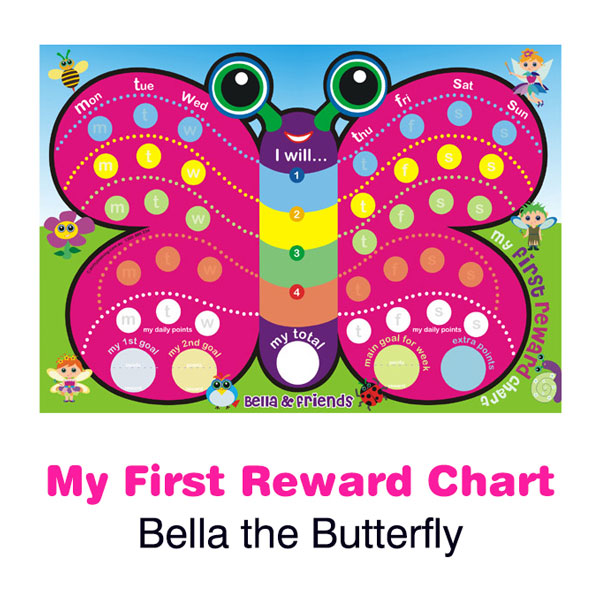 2. Night Light: Galaxy Moon: A Night Light helps with night training by providing a feeling of security for child if they need to wake up to go to the toilet. Waking up in the dark can discourage them to make the effort to go to the toilet. A beautiful light that provides a serene, ambient atmosphere, and looks like a wonderous galaxy can help your child feel relaxed and motivated to empty their bladder in the middle of the night if needed.
---
Wonderful Customer Service
By Kylie: 4 September, 2015
Thank you so much, we recieved this package on Wednesday afternoon. I had one very excited girl.
Thank you to Tracy for her wonderful customer service when our original purchase was deemed 'lost'!
---
Next Day DONE!!!
By Nina: 4 August, 2015
Hi Team I purchased your kit and received it on a Friday. Started using it on a Saturday night and my 4 yr old (yes, I know, a late start) (wise old owl) has been using the loo ever since for No.2s (she was already wee trained). No problems or resistance at al. Thank you so much. Your kit has been successful and amazing. Thanks Nina & Carla xx
---
Be The First To Review This Product!
Help other Pottytraining.com.au users shop smarter by writing reviews for products you have purchased.
---
We Also Recommend
---
You May Also Like
---
Others Also Bought
---
More From This Category